Ring Collection Gold
Regular price
350,00 €
Sale price
Tax included. Shipping calculated at checkout.
FIND YOUR SIZE
You can easily determine your ring size by measuring the inner diameter of a ring that already fits well.
Size Chart
Now take a look at our size chart to see which inner width is closest to your ring size.
Quality & Craftsmanship
Art is for eternity. Of course we can't promise eternity, but we combine excellent material quality with high craftsmanship "Made in Germany". We attach great importance to the selection of materials and only use hypoallergenic, nickel-free qualities - accordingly, there are no color irritations.
We manufacture our collection exclusively from high-quality 925 sterling silver. For a particularly long lifespan, we plated our silver jewelry with rhodium. The extra layer of rhodium gives the jewelry its extraordinary silver-white shine. For gilding, we only work with a particularly durable 18-carat gilding in gold and rose gold. Perfect for anyone who wants to wear their jewelry every day.

For TimeCatcher & Rings we only use real gemstones such as citrine, peridot, amethyst, onyx, topaz, sapphire and rose quartz, so that each piece of jewelry has a special meaning for you has.
For us, sustainability, trends and creative design are not mutually exclusive. Our focus is on timeless pieces that can be worn for many occasions and are particularly durable. Transformed into new favorite pieces in just a few simple steps!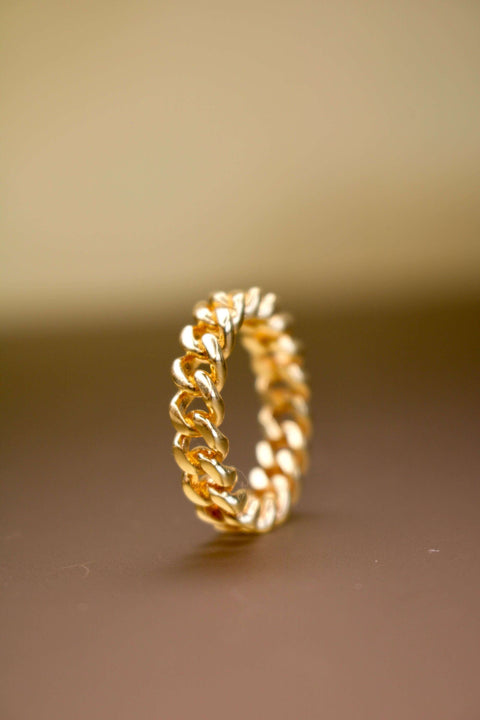 #WishRingGold
Product Description
The Wish Ring is a modern and puristic ring. The center of the ring is a sphere of desire. Thanks to the minimalist design, the ring is ideal for stacking and just as easy to combine with other rings and pieces of jewelry. A wonderful ring for anyone who wants to be reminded every day that they have wishes that will soon come true!
#HighlightRingGold
Product Description
The special thing about the highlight ring is its simplicity. White topaz in combination with 925 sterling silver with 18 carat gold plating. The white topaz is a support in the realization of wishesYou are at peace with yourself. You don't need drama to get people's attention. Your style is the key to your success.
The highlight band likes to be the focus when worn alone, but test your favorite stacking with our other rings to your heart's content. Only rings give your styling the final touch!

#MultiShineRingGold
Product Description
A brilliant piece of jewelry thatthat you can also wear individually on your finger - the delicate ring is so beautiful. Our Multi Shine Peridot & Citrine Ring impresses with the shimmering combination of gold, light green peridot and bright yellow citrine. This is the VI VA ring in general, because both stones should strengthen your zest for life.
#ShimmerRingPeridotGold
Product Description
This classic ring with peridot is simple yet elegant. A mixture of green and yellow - this is how you could describe the interesting coloring of the peridot. Peridot is said to help us see only the positive things and thus bring success and happiness into our lives.
You can also wear the positive effect of peridot as a time catcher on your VI VA Watch. Twice as beautiful, many times more effective!
#ShimmerRingCitrinGold
Product Description
The citrine shimmer ring combines classic design and stunning color. The hue of the ring literally blends with the radiant yellow of the round citrine. A small ray of hope for every day, because the citrine gives joy, creativity and youth.
It's best to wear our citrine shimmer time catcher on your jewelry watch as well. Better safe than sorry!
#EternalVibesRingGold
Product Description
Expressive and simple at the same time. Our handcrafted Eternal Vibes ring made of 925 sterling silver and plated with 18 carat gold can be worn individually or combined with individual ring stacking looks.
You might also like the Eternal Vibes ArtChain or our necklace in the same design. Together more than just a statement!
#PearlShineRingGold
Product Description
Twisted gold strands form these two timeless and simple rings in our Pearl & Shine set. One of the two rings is crowned by a white freshwater pearl and the other by a white sapphire. Classic and noble: This is how pearls are worn today!
Thanks to its simple and elegant design, the rings fit almost every style and occasion and are very suitable for combining with the Wish Ring.