Ring Collection Rosegold
Regular price
155,00 €
Sale price
Tax included. Shipping calculated at checkout.
FIND YOUR SIZE
You can easily determine your ring size by measuring the inner diameter of a ring that already fits well.
Size Chart
Now take a look at our size chart to see which inner width is closest to your ring size.
Quality & Craftsmanship
Art is for eternity. Of course we can't promise eternity, but we combine excellent material quality with high craftsmanship "Made in Germany". We attach great importance to the selection of materials and only use hypoallergenic, nickel-free qualities - accordingly, there are no color irritations.
We manufacture our collection exclusively from high-quality 925 sterling silver. For a particularly long lifespan, we plated our silver jewelry with rhodium. The extra layer of rhodium gives the jewelry its extraordinary silver-white shine. For gilding, we only work with a particularly durable 18-carat gilding in gold and rose gold. Perfect for anyone who wants to wear their jewelry every day.

For TimeCatcher & Rings we only use real gemstones such as citrine, peridot, amethyst, onyx, topaz, sapphire and rose quartz, so that each piece of jewelry has a special meaning for you has.
For us, sustainability, trends and creative design are not mutually exclusive. Our focus is on timeless pieces that can be worn for many occasions and are particularly durable. Transformed into new favorite pieces in just a few simple steps!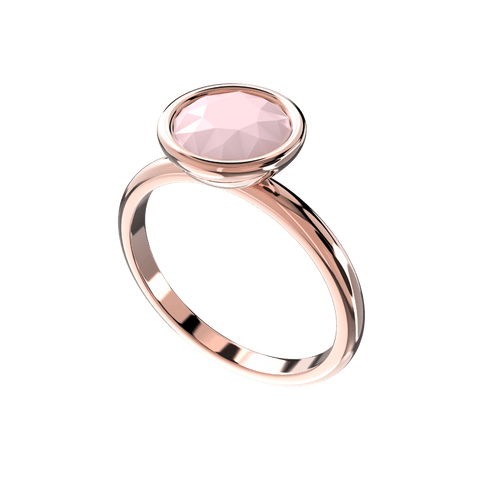 #EternalVibesRingRose
Product Description
Expressive and strikingly beautiful. Our handcrafted Eternal Vibes Ring made of 925 sterling silver and plated with 18 carat rose gold can be worn individually as a statement.
You might also like the Eternal Vibes ArtChain or our necklace in the same design. Together more than just a statement!
#MultiShineRingRose
Product Description
A brilliant piece of jewelery that you can also wear individually on your finger - the delicate ring is so beautiful. Our Multi Shine ring impresses with the beautiful, feminine combination of rose gold, rose quartz and a shimmering white topaz. The white topaz should help you to realize your dreams, the rose quartz reminds you to love yourself.
#ShimmerRingRosequartz
Product Description
This classic rose quartz ring is simple yet elegant. The delicate pink-colored gemstone harmonises perfectly with the beautiful rose gold and reflects feelings of love, harmony and intimate connection. Love you and your beauty!
#HighlightRingRose
Product Description
The special thing about this band ring is its simplicity. White topaz in combination with rose gold. White topaz helps to realize dreams and yourself. Your kind is the key to success!
#WishRingRose
Product Description
The Wish Ring is a modern and puristic ring. The center of the ring is a rose gold ball - our typical wish ball, which you will find again and again in our collection. Thanks to its minimalist design, it is ideal for stacking and just as easy to combine with other rings and jewellery.
A wonderful ring for anyone who wants to be reminded every day that they have wishes that will soon come true.