GoldKetten
Regular price
95,00 €
Sale price
Tax included. Shipping calculated at checkout.
SIZE & LENGTH GUIDE
How to determine lengths
A chain should have a total length of at least 30cm so that you can connect it to a jewelry chain with an ArtCatcher.
For very short necklaces in combination with an ArtCatcher, we recommend that you measure your neck circumference beforehand.
How it works: Simply multiply the length of your chain by the length of your ArtChain or ArtCatcher.
________________________
Find the perfect length
Please always pay attention to our length description so that you know which chain length you are looking for.
In connection with our ArtChain, the chains always give a different look and are ideal for chain layering. Which is the right length for you depends on your build, your taste and of course the style you have chosen.
________________________
Quality & Materials
Art is for eternity. Of course we can't promise eternity, but we combine excellent material quality with high craftsmanship "Made in Germany". We attach great importance to the selection of materials and only use hypoallergenic, nickel-free qualities - accordingly, there are no color irritations.
We manufacture our collection exclusively from high-quality 925 sterling silver. For a particularly long lifespan, we plated our silver jewelry with rhodium. The extra layer of rhodium gives the jewelry its extraordinary silver-white shine. For gilding, we only work with a particularly durable 18-carat gilding in gold and rose gold. Perfect for anyone who wants to wear their jewelry every day.

For TimeCatcher & Rings we only use real gemstones such as citrine, peridot, amethyst, onyx, topaz, sapphire and rose quartz, so that each piece of jewelry has a special meaning for you has.
For us, sustainability, trends and creative design are not mutually exclusive. Our focus is on timeless pieces that can be worn for many occasions and are particularly durable. Transformed into new favorite pieces in just a few simple steps!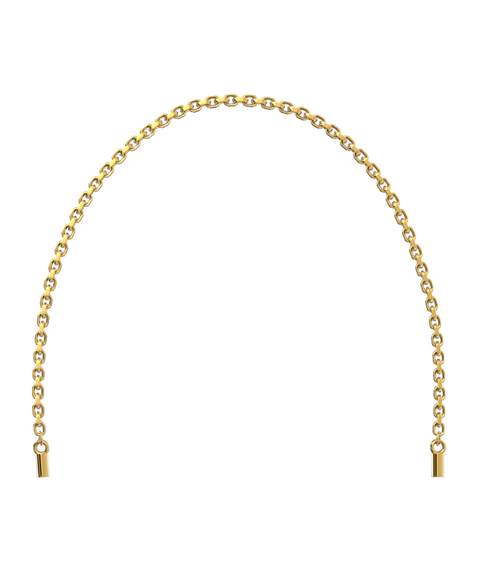 Product Description
#Diamond-coated anchor chainGold35cm
Anchor chains have always been at the forefront of the most popular types of chain. Our diamond-coated anchor chain enchants with a breathtaking shine. If you love stylish looks, this necklace is best worn with a classic, elegant outfit or at the next cocktail party. Enjoy your time.
Simply connect the chain with our ArtChain or you decoratively close it at the front of the neck with our ArtCatcher or wear it as a basic.
#Bead chain22cm
Ball chains inspire with their wonderfully extravagant look and are therefore the perfect accessories for individual styling. The ball chain goes just as well with a leather jacket, sneakers and jeans as it does with a cocktail dress and high heels.
Due to its length of 22cm, this ball chain can only be worn with an ArtChain
#Snake chain 30cm
Snake chains shine attractively and wrap around your neck softly and supple – like a snake. Due to the compact and special arrangement of the links, this chain does not knot as easily as other chains and can be easily combined with an ArtChain.
This snake chain becomes a choker in connection with an ArtCatcher. The circumference of your neck should be at least 35cm.
#Mailmail38cm
Chain chains are the timeless but glamorous classic among chains and an extremely versatile all-rounder. Its flat chain links are lined up horizontally, which means that the curb chain nestles evenly and comfortably around your neck and is strikingly beautiful.
Simply connect the curb chain with our ArtChain or you decoratively close it at the front of the neck with our ArtCatcher. With us, even the clasp becomes a piece of jewelry. Watch & Jewelry Art.
#Singapore Chain44cm
The Singapore chain impressively shows how versatile and multifaceted this type of chain is: You love playful fashion, but like to go for elegance? Then you wear this necklace as a stand-alone and create an eye-catcher. The Singapore chain also goes perfectly with all other looks and is therefore the perfect match for wonderful moments in the office, when shopping and also when going out.
#delicate mail chain40cm
The delicate curb chain skilfully stages ArtChain and ArtCatcher in particular with its narrow and delicate shape. Now add a TimeCatcher to the ArtCatcher and you create a unique combination.