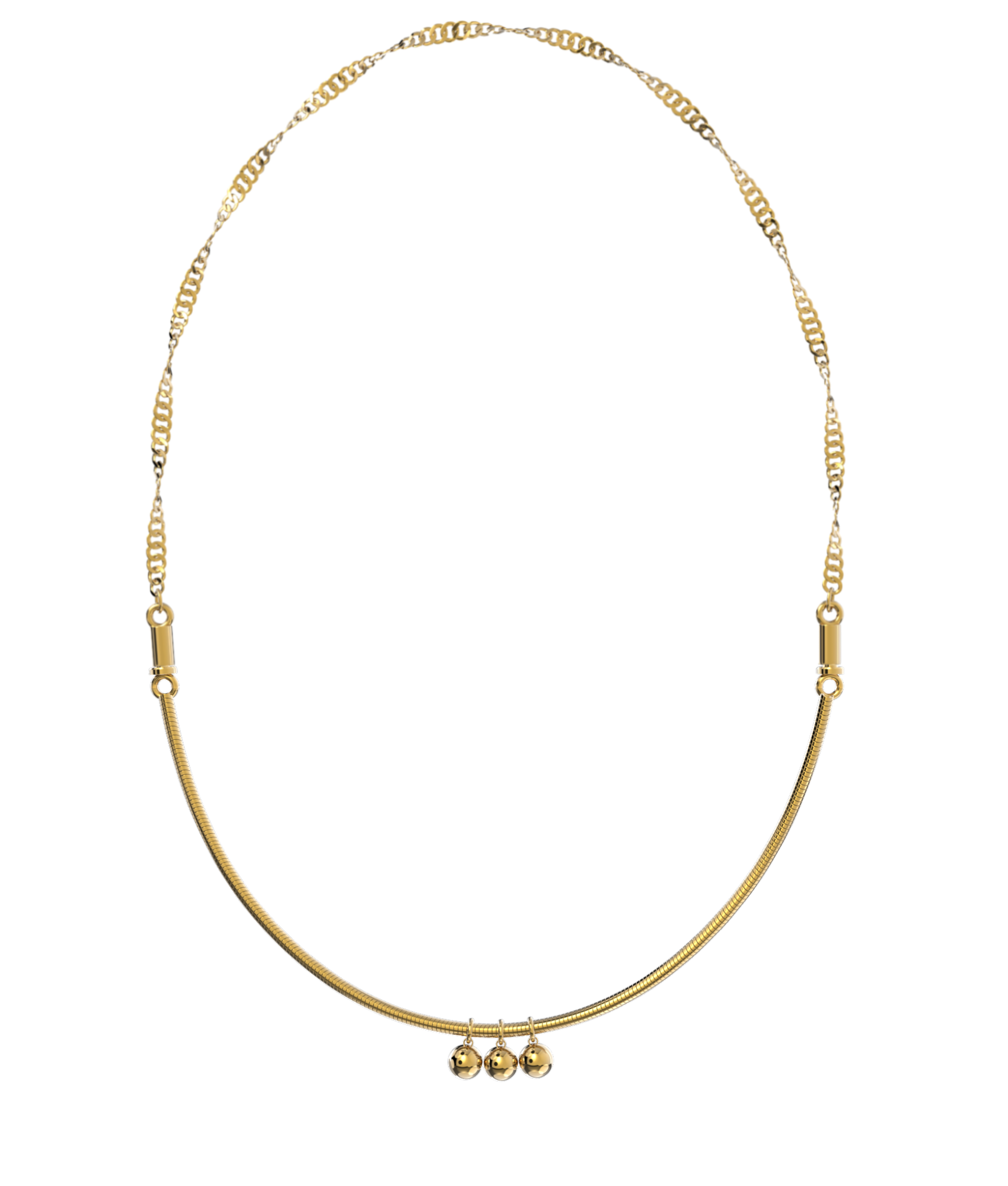 ---
Singapore chain
Sale price
50,00 €
Regular price
(/)
Delivery time 5 - 7 working days
#Singapore chain 44cm
The Singapore chain impressively shows how versatile and multifaceted this type of chain is: Do you love playful fashion, but also like to focus on elegance? Then it's best to wear this necklace as a stand-alone and create an eye-catcher. The Singapore chain also goes perfectly with all other looks and is therefore the perfect match for wonderful moments in the office, when shopping or when going out.
Material & quality

Art is for eternity. Of course we can't promise eternity, but we combine excellent material quality with high craftsmanship "Made in Germany". We attach great importance to the selection of materials and only use hypoallergenic, nickel-free qualities - accordingly, there are no color irritations.

We manufacture our collection exclusively from high-quality 925 sterling silver. For a particularly long lifespan, we plated our silver jewelry with rhodium. The extra layer of rhodium gives the jewelry its extraordinary silver-white shine. For gilding, we only work with a particularly durable 18-carat gilding in gold and rose gold. Perfect for anyone who wants to wear their jewelry every day.

For TimeCatcher & Rings we only use real gemstones such as citrine, peridot, amethyst, onyx, topaz, sapphire and rose quartz, so that each piece of jewelry has a special meaning for you has.

For us, sustainability, trends and creative design are not mutually exclusive. Our focus is on timeless pieces that can be worn for many occasions and are particularly durable. Transformed into new favorite pieces in just a few simple steps!
Care instructions

To ensure that your gold and silver rings stay beautiful for a long time, here are some care instructions:

1. Avoid contact with chemical substances such as detergents, perfumes, hairspray or cosmetics as they can damage the silver and gemstones.

2. Remove your rings before coming into contact with water, especially water containing chlorine. This is especially true for activities like swimming or washing dishes, as the water and chemicals it contains can corrode the surface.

3. Store your rings in a jewelry box or soft cloth bag to avoid scratches and damage. Avoid mixing them with other jewelry as this may cause friction and scratches.

4. Clean your rings regularly to prevent tarnishing and discoloration. To do this, use a gentle cleaning agent that is specifically suitable for silver jewelry. Apply the cleaning agent with a soft cloth or brush and rinse thoroughly with clean water. Then dry the rings carefully with a soft cloth.

5. Avoid wearing your rings during sports or physical activities as they may be damaged by bumps or scratches.

6. Check the gemstone settings regularly to ensure they are secure. If you notice any loosening or other damage, contact Art of VI VA to have it repaired.

By following these care instructions, you can ensure that your rings stay bright and beautiful for a long time.
Shipping & Returns

Shipping and shipping costs

Your Art of VI VA jewelry pieces will be delivered to you with DHL GoGreen within Germany and with Deutsche Post GoGreen in Austria.

Shipping is free of PRE ORDER products at Art of VI VA in Germany. Up to an order value of €240.00 we charge €10.00 shipping costs to Austria. We currently supply Switzerland on request. If you would like shipping to Switzerland, please contact: service@artofviva.de

All deliveries can be tracked using a tracking number, which you will receive in your shipping confirmation.

Return/Exchange

It is very important to us that you are satisfied with the jewelry from the Art of VI VA. Only then will you wear them every day! Returns are therefore of course possible: You only have to return your jewelery within 14 days (unworn, of course) and pay the postage for the return.

In the event of a return, please email: service@artofviva.de

The refund will be made via the respective means of payment within a maximum of 14 working days after receipt and inspection of the goods. With your help, we want to keep improving the quality of our products. We would therefore be very grateful if you would briefly inform us of the reason for your return in your e-mail. This is how we can continuously improve. An exchange is also no problem. Here you bear (just like with the return) the costs for the return and we take over the shipping costs of sending your order again.

If you would like an exchange, please contact: service@artofviva.de

Complaints

All watches and jewelery are made and assembled from high-quality materials with the utmost care. A final quality check before shipping is carried out by us personally.

We would therefore like to ask you to check your items for completeness, obvious defects and transport damage immediately upon delivery and to inform us and the carrier of any complaints as soon as possible.

If you receive goods whose packaging or contents were obviously damaged during transport, please complain to DHL immediately (without prejudice to your warranty rights) and refuse acceptance. Afterwards, please contact the Art of VI VA directly so that we can protect any rights against the sender. If you don't comply, this will of course have no effect on your statutory warranty claims.

In the event of a complaint, please contact our customer service at service@artofviva.de

If possible, please send us a photo of the defective item. We will exchange or repair defective items. After checking, we will send you a return sticker, or agree with you on another way. We'll get it sorted out!

Art of VI VA confirms the general legal provisions for warranty in Germany according to § 438 BGB, according to which the customer can complain for up to 24 months when purchasing defective goods.

Unless otherwise expressly agreed below, the statutory right to liability for defects shall apply. In the case of used items, the limitation period for claims for defects is one year from delivery of the goods.

Insofar as repair services are part of the contract or are requested by you, we owe the repair work resulting from the service description. We provide this to the best of our knowledge and belief personally or through third parties. We will invoice you for this after the statutory warranty period has expired.
Singapore chain
Sale price
50,00 €
Regular price
Choose options